Dominex Eggplant Review
By:
The Editors of FaveHealthyRecipes.com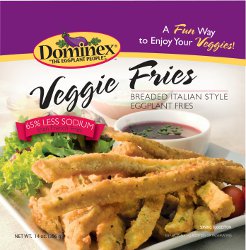 "The Dominex Veggie Fries are an unbelievably tasty alternative to your standard potato fry. These super filling and super crunchy eggplant fries are beyond easy to make, not to mention quick; you can cook them in less than 15 minutes. They pair wonderfully with many dishes or are great as a snack (my personal favorite).I love the subtle seasoning and how these fries will fill you up faster than any normal fries. The fact that they are low sodium, zero cholesterol and zero trans fat is just a delightful bonus to these delicious fries! I'd highly suggest taking a break from the predictable potato and go eggplant."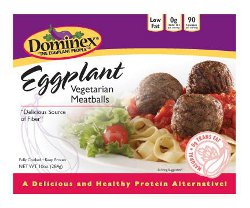 "Overall, I was quite impressed with the Dominex eggplant meatballs. Normally I shy away from fake meat products, but these happily go against the norm. They have a great chewy bite, and have a bold and zesty flavor. I can easily see myself cooking these in tomato sauce and putting them on a sub sandwich. They don't taste fake or artificial at all, unlike some other meat alternative products. Even meat eaters would these flavorful little balls of joy."
"Who doesn't love fries? Everyone I know does (including me!), but I sure don't love the high fat and low nutritional value, particularly for my children. That's only one reason why I've come to know and love Dominex Veggie Fries – they're all-natural, taste great, and have lots of fiber (and far less sodium than traditional French fries). These eggplant fries are a tasty and quick snack or mealtime side, baking up in the oven in about 15 minutes, and they actually count as a serving of vegetables! You can't say that about French fries. Even my husband, an eggplant non-lover, liked them, and that's saying a lot. Direct quote from my 5-year-old son? 'I love these fries! They taste just like onion rings!' OK, they don't taste like onion rings, but I loved them too – simply delicious!"
"It's a well known fact that the humble eggplant only reaches its true potential when incorporated into Italian cuisine or animated children's films about bible stories. I'm most used to seeing eggplants breaded, fried and covered in cheese, surely a process that would improve anything even remotely edible, but I still had high hopes for the Dominex Eggplant Vegetarian Meatballs.
Cooking time was a little longer than advertised (about 15 minutes rather then 10, in a toaster oven) but the end result was worth it: as a vegetarian I've eaten a lot of meat-substitutes over the years, but these little eggplant balls had a bite and resistance unlike any other protein I know of: very much like the tactile experience of biting into actual ground meat. There's some irony surely, in the fact that these veggie balls had a better texture than all the tofu, seitan, and vat-grown micoprotein in the world. The flavor was pleasant, tasting more of the conventional Italian seasonings than the vegetable itself, but the overall experience was first class. A generous serving size ( 5 veggie balls for 90 calories) was also much appreciated. I have to call Dominex on the claim that they avoid all artificial ingredients: I have no doubt it's technically true, but I still saw a couple of unnatural looking things on the ingredients list, including artificial coloring: surely this is contrary to the spirit if not the letter of the law. Still, overall I'll give these tasty little bundles of protein an A!"
Free recipes, giveaways, exclusive partner offers, and more straight to your inbox!
Tags / Related Topics
Your Recently Viewed Recipes

Something worth saving?
SAVE your favorite recipes
ADD personal notes
GET fast cooking tips