Zevia Soda Review
By:
The Editors of FaveHealthyRecipes.com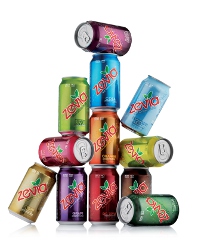 "I'm not a person you would normally catch buying sugar-free anything. I love sugar, and I'm not afraid to consume it in gross quantities. I honestly never would have tried Zevia if I wasn't asked to review it because I figure that if you're going to drink soda, you should go all out. I'm also not one for diet sodas because I don't like drinking aspartame, sorbitol, and whatever else you find in diet drinks. But Zevia is definitely a different breed of sugar-free soda. It comes in oodles of flavors, and each one I tried was delicious. My favorites were the Grapefruit Citrus and the Dr. Zevia. I also tried the Black Cherry and Cream Soda, both of which were great as well, just not my flavors of choice. Zevia has all the carbonation you expect from soda, and it's just as sweet, but without the gritty feeling of sugar coating your teeth afterwards. I don't feel bad about myself if I sit at my desk and finish a whole can of Zevia because it's completely calorie-free and all-natural. I would definitely buy this again, and I would even serve it to my friends instead of regular soda."
"Dr. Zevia: Love Dr. Pepper but hate the artificial flavors? Then you'll love Dr. Zevia – think of it as Dr. Pepper's natural twin with the same cherry undertones. Dr. Zevia gets its zero calorie, zero sugar appeal from stevia, a botanical sweetener that contains no net carbs and won't wreak havoc on your blood sugar like traditional soda. For those looking for a healthy alternative, this is just what the doctor ordered!
Cream Soda: Cream soda is a sweet treat that tastes more like a dessert than a soda. But most cream sodas actually are an indulgence, whether it's calories or sugar. Zevia Cream Soda is natural, featuring hints of vanilla and butter, but contains zero calories or sugar. It's a nice way to satisfy your sweet tooth without sacrificing your health.
Grapefruit Citrus: For citrus-loving palates, this is a refreshing soda that feels light and balanced. Unlike other grapefruit sodas, Zevia Grapefruit Citrus isn't heavy on the grapefruit flavor, so there's no too-tart aftertaste. The blend of oranges, grapefruit, pineapple, lemons and limes creates a zing that tastes great. This soda would make an excellent mixer - add a splash of juice for a fruit spritzer, or champagne and juice for a sparkling mimosa. Best of all, this soda uses 100% natural stevia so you don't have to feel guilty about drinking diet soda!"
"I tried the lemon-lime and orange flavors. I was immediately interested in Zevia because there are zero calories. Talk about guilt-free! I liked that the flavors are smooth and not too sweet (you don't feel like you have to run and brush your teeth after finishing a can). I can best describe the flavor as a cross between regular, run of the mill soda and flavored, carbonated water. I will definitely replace sugary sodas with a Zevia in the future."
"If you're a fan of Dr. Pepper soda – regular or diet – you're likely to become a fan of Dr. Zevia, too. It has all that same fruity wonderfulness you love, but it's naturally flavored and sweetened with stevia. It's a touch sweeter than other similar products, and is light, crisp, and refreshing. No calories, no sugar – just tons of flavor!
I consider myself something of a black cherry soda aficionado, so when given the opportunity to sample Zevia's new Black Cherry all natural soda, I jumped at the chance – naturally! It is seldom that one finds a soda type beverage that actually smells like fruit, but the Zevia Black Cherry is delightfully fragrant and tastes even better than it smells. Not too tart, not to sweet, sweetened with stevia instead of sugar or some chemicals, the soda has a clean, refreshing taste and a nice bite. Next time I'm at the store and see Zevia on the shelf, I'm going to be sure snag some for my personal refrigerator!
If you're looking for a bright, lemon-lime flavor in your soda without added sugar, Mountain Zevia has just what you're looking for! Made from 100% natural ingredients and sweetened with stevia, the Zevia claim is true – it's what soda should always have been. Just right for an afternoon pick-me-up, this refreshing beverage has just the right amount caffeine you want to get you through the end of your day, plus a zippy flavor you'll love."
Free recipes, giveaways, exclusive partner offers, and more straight to your inbox!
Your Recently Viewed Recipes

Something worth saving?
SAVE your favorite recipes
ADD personal notes
GET fast cooking tips