Roman Meal Review
By:
The Editors of FaveHealthyRecipes.com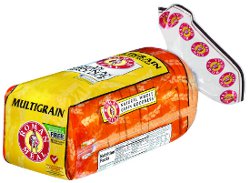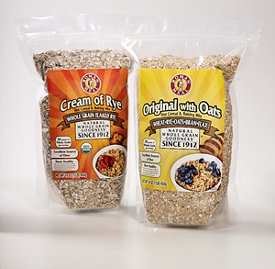 "The Multigrain Roman Meal bread reminds me why I love whole grain breads; it was hearty, but not so hearty that it wasn't soft. I used to hate breads that were so hard that I wanted to cut the crusts off, no need with this bread! It has a wonderful whole grain flavor and without all the added junk (like high-fructose corn syrup) it makes me happy to know what I'm eating is real and good for me. With the additions of other vitamins like calcium, vitamin D and the extra fiber, I'll definitely be adding more Roman Meal bread into my diet."
"I was expecting instant oatmeal--a healthier version of course, but still. Instead, I got something very different and was pleasantly surprised. The Roman Meal Healthy Elements Honey version tasted more like an interesting combination of several hot breakfast cereals, something I've never thought to do myself! With its combination of barley, rye, and oats sweetened by honey and sugar, it was sweet enough to not need sugar but not overly sweetened. It had such flavor that I didn't need to add anything (like butter), though I opted for a little skim milk since I make my hot cereal a little thicker than some. With the whole grains and vitamins, it's a great choice for breakfast!"
"I tasted the maple flavor of the Roman Meal Healthy Elements hot breakfast. Instead of water, I used milk and added blueberries for a rounded out breakfast. I am a huge fan of maple oatmeal and this did not disappoint. The texture isn't too think and the flavor isn't overly sweet. This is great if you want a meal that fills you up but won't leave you stuffed. I would definitely buy this and eat it on weekday mornings when I don't have time to make a big breakfast."
"I had a chance to try two of Roman Meal's hot baking mixes, the Original with Oats variety and the Cream of Rye variety. Overall, I was extremely impressed with both varieties for both eating and baking. In terms of eating the mixes as a hot cereal, they were an ideal cool weather morning breakfast. They combined the heartiness of a good oatmeal with the creaminess of a Cream of Wheat. I like that both included a variety of whole grains, which to add a thicker and chewier texture to the resulting hot cereal bowl.
For baking, I found both to be an ideal substitute for baking dishes that call for oatmeal. The variety of grains adds bonus chewiness and texture contrast to baked goods, something plain oats cannot contribute. I made a batch of oatmeal cookies using the Cream of Rye variety, and loved how chewy and dense the cookies were. The added fiber and protein from the baking mixes makes sweets much more wholesome and filling."
"I thought the Roman Meal whole grain bread was a great sandwich option for those unaccustomed to denser breads. It had the light chewy texture that I might associate with a higher quality white bread, but with all of the benefits of whole grain. I had it in the morning as toast for a simple yet wholesome breakfast. It would also be the perfect option for sandwiches."
"I'm generally not too fond of hot cereal, but in an effort to eat a more healthy breakfast, I decided to try Roman Meal's Healthy Elements hot cereal. I tried the Apple Cinnamon kind, and I have to say, I'm a new fan! This hot cereal is similar in taste to oatmeal, but not as gloopy and feels more substantial when you're eating it. Since it's packed with fiber and protein, you really feel like you're having a hearty, healthy breakfast... but one that still tastes good! The Apple variety had just the right amount of sweetness to make me not miss my sugary cereal. I have a feeling this is going to be my new go-to breakfast... especially when I need something warm on those cold winter mornings!"
"Roman Meal Cream of Rye is the perfect ingredient for an incredible muffin! Homemade muffins tend to waver between sugary calorie bombs and mealy, tasteless blobs, but these were moist, wholesome and not too sweet. The Cream of Rye added texture and flavor to the muffin, as well as a great punch of filling protein. It tasted just like my morning bowl of oatmeal, without the mess and the hassle. With 36 grams of whole grains and 5 grams of fiber per 120-calorie serving, the Cream of Rye muffins filled me up and gave me the energy to plow through my busy schedule and keep going all day. The perfect balance of invigorating sweetness and nutritious goodness, the muffin didn't leave me wanting more as they usually do, but kept me satisfied for several hours. I didn't even need a snack break before lunch!"
"I recently tried a delicious apple muffin made from Roman Meal's Cream of Rye cereal and I have to say, it was so good! You'd never know that cream of rye was used to make such a moist and tasty muffin. The density of the muffins made them pretty filling and the perfect breakfast treat. The cream of rye really added a wonderful smooth texture and finish to these muffins. I'd will definitely be cooking with this product myself soon."
"Roman Meal's Cream of Rye is hearty and has all the great qualities rye should have. The wholesome rye oats offer a hint of sour that is great when used for baking to balance out sweet ingredients. It has a rich texture and a complex taste. It's a perfect morning cereal treat, and a great addition to any baked recipe. Delicious!"
"I must admit that the name "Cream of Rye" made me a little nervous. But when I tried muffins made from this Roman Meal product, I was pleasantly surprised! The muffins were tasty but not overly sweet. The consistency reminded me of matzo meal - the muffins were spongy without sacrificing taste. They were also a little on the thicker side and more chewy than muffins from generic muffin recipes. If you're looking for a healthy product that still tastes good, I would definitely suggest trying this product."
For more information about and recipes from Roman Meal, check out their Featured Foodies profile page.

Free recipes, giveaways, exclusive partner offers, and more straight to your inbox!
Your Recently Viewed Recipes

Something worth saving?
SAVE your favorite recipes
ADD personal notes
GET fast cooking tips