Healthy Muffins for All: 25 Healthy Muffins Recipes
Bonus: Get our newsletter & special offers for free. We will not share or sell your email address. View our Privacy Policy

How to Make Zoodles + Zoodle Recipes
Find out the best way to make zucchini noodles and try some of our best zoodle recipes!
By:
Sara Raffensperger, Editor, FaveHealthyRecipes.com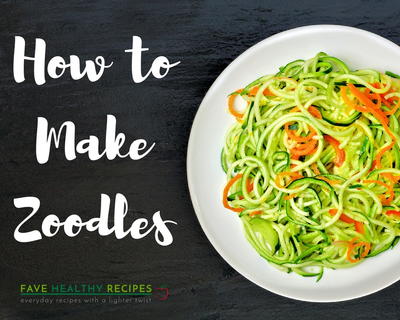 Have you heard of zoodles yet? The word sounds silly, but they're actually pretty great. Instead of making pasta that is full of carbohydrates and unwanted fats, try some zucchini noodles! They're a low-carb and gluten free alternative to pasta and you can make them with a variety of kitchen tools like a spiralizer, julienne peeler, or a mandoline.

If you've never tried to make them yourself, then this article on How to Make Zoodles is the perfect place to start. Once you know how to make zucchini noodles, you can try one of the easy zoodles recipes down below!

You won't believe how easy it is to make zoodles even without a spiralizer and your family is going to be so impressed when you make them for dinner.
Table of Contents
How Do You Make Zoodles?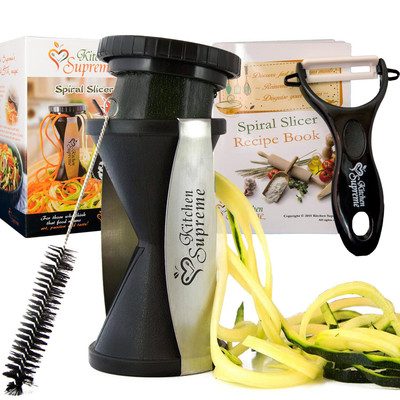 One of the easiest ways to make zucchini noodles is with a spiralizer. We've reviewed a couple of them in case you don't have one in your kitchen yet. Check out this KitchenSupreme Vegetable Spiralizer Review and Briefton's Next Gen Spiralizer.

A spiralizer is the fastest way to make zoodles and requires the least amount of effort. You'll also get really consistent zoodles that are all the same size and thickness with a spiralizer.

There are also hand-held spiralizers that require a little more effort and you might end up with inconsistent zucchini noodles because you're in charge of spinning the zucchini and the spiralizer to make the zoodles.
How to Make Zoodles Without a Spiralizer
Don't want to spend money on a spiralizer? That's okay! You can still make zoodles without a spiralizer.

Dig through your kitchen drawers and find your julienne peeler. It'll make thick, flat pieces of zoodles. It'll take longer than a spiralizer and you run the risk of accidentally nicking your fingers, but it'll save space in your kitchen storage.

Don't want to use a spiralizer OR a julienne peeler? That's fine too! You can always make zucchini noodles with a mandoline. It'll make zoodles similar to ones made with a julienne peeler, but they'll be slightly thicker and made in half the time. As long as you're careful with the sharp blades, you can make delicious, thick zucchini noodles with your mandoline.
Zoodle Recipes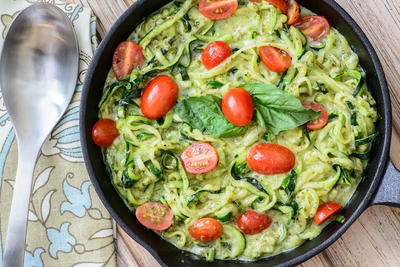 Now that you know exactly how to make zucchini noodles, test your knowledge on some of these zoodles recipes! You won't believe how easy they are to make and you'll love how delicious they are.

Zucchini noodles are a great low-carb alternative to regular pasta. There are so many different ways to prepare them that you won't get bored when you try all of these zoodle recipes.
How to Cook Zoodles
Once you're done making your zoodles in your handy-dandy spiralizer, with your julienne peeler, or your mandoline, put them between paper towels and press down gently. You don't want your zoodles to be soggy and getting the excess moisture out before you cook them is the best way to do that.

Next, heat your choice of cooking oil in a pan. Butter, coconut oil, and olive oil are all good choices! Add your zoodles once the oil starts getting hot and stir gently.

Sprinkle with your favorite seasonings like salt, pepper, or garlic (and anything else you think to add!). Saute for approximately five minutes and then remove from heat.

Put the zoodles on your plate and add any sauces or protein like shrimp or chicken to complete the dish. You can also top with a lemon wedge and basil if you're feeling fancy.
How to Store Zoodles
What if you made your zoodles ahead of time and don't have time to eat them all? Luckily, zoodles are really easy to store.

Line a large plastic or glass storage container with a paper towel, add the zoodles, and store them in the refrigerator. They'll stay fresh for 2-3 days.

The paper towel will soak up moisture so your zoodles won't be soggy when you're ready to eat them.
Zoodles vs. Pasta
Zoodles aren't going to taste like pasta. You might as well realize that right now. They're going to taste like zucchini...because that's what they are. If you want the exact taste of pasta, you're going to be disappointed. But if you want a low-carb alternative to pasta that is still really good, you're going to love zoodles.

Zoodles have fewer calories, fewer carbs, and more fiber than regular pasta. Toss the zoodles with a healthy sauce and add some protein like shrimp or chicken and you've got yourself a meal that will make your skin glow and your body feel strong.

Let me break it down to numbers:
There are 75 calories in 2 cups of pasta. In 2 medium zucchini, there are 66 calories. There are 14 g of carbohydrates in 2 cups of pasta. There are 8 g of carbohydrates in 2 cups of zoodles.

While zoodles aren't "carb-free," it's important to know the difference between the carbs found in your regular pasta and the carbs in vegetables like zucchini.

There are "good" carbs and "bad" carbs. Complex carbohydrates are considered good because there are fewer sugars for your body to break down and they'll keep you going longer.

Simple carbohydrates are considered bad because they're higher in sugar and lower in fiber. They don't offer any real benefit or value to your body.

The carbs found in vegetables like zucchini are considered simple carbohydrates; however, the fiber that is also in vegetables makes them a little more like complex carbohydrates. Therefore, if you're looking for a healthier option to your favorite pasta, zucchini noodles are the way to go.
What's your favorite way to make zoodles?
Free recipes, giveaways, exclusive partner offers, and more straight to your inbox!
Tags / Related Topics
Your Recently Viewed Recipes

Something worth saving?
SAVE your favorite recipes
ADD personal notes
GET fast cooking tips