How to Plan a Soup Bar Party: 6 Tips for a Great Event
Serving soup to a crowd has never been easier with these fun party ideas!
By:
Megan Horst-Hatch, Editor, FaveHealthyRecipes.com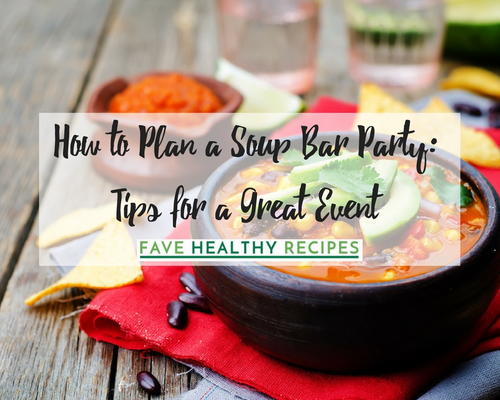 The weather outside is starting to get frightful, so why not warm up by throwing a soup bar party? This easy idea for a party is a great (or should we say "soup"-er?) way to try an assortment of soups in a fun and casual environment. This type of party food is also a fun and creative opportunity to break up the monotony and doldrums of winter, especially in those weeks after the holidays are over. It's also a budget-friendly way for serving soup to a crowd without going broke in the process.

With this guide on How to Plan a Soup Bar Party: 6 Tips for a Great Event by your side, you can plan a delightful and fun event that everyone will love.
How Much Soup Do You Need to Serve?
As you will also be serving toppings, side dishes, and even desserts, you don't need to provide an almost limitless quantity of soup for your guests. You will also want to provide a few types of soups so that guests can try one, two, or more varieties. Broth soups will encourage guests to add their own mix-in ingredients, while heartier cream-based soups and chowders will provide a richer taste. Consider including your favorite healthy chili recipe; just remember to label all soups clearly so that guests can make informed choices, and to provide milder soups as alternative options. As guests will likely try a few of the types of soup, consider making one large pot of soup for every four guests. As noted by Omaha World-Herald, you should also include a meatless option for soup.
Soup Bar Party: How to Keep Everything Hot
It's one thing to keep a single pot of soup hot for everyone, but it's another if you are planning to serve an assortment of broth soups, chili, chowder, and other types of soup. Keeping your soups consistently hot doesn't need to be a deal breaker for your party, but it is a factor to consider. If you plan to make soup a day or two before the party, then you can still use your slow cooker to keep everything hot. Clemson Cooperative Extension recommends reheating the soup to steaming, then placing the soup in a slow cooker that has been thoroughly reheated. Make sure the appliances are placed on tables or countertops with plenty of depth and width; the slow cookers shouldn't be dangerously close to the edge. Make sure all electric cords are plugged in and put in place appropriately. Set out one or two ladles for each soup, and you're ready to serve!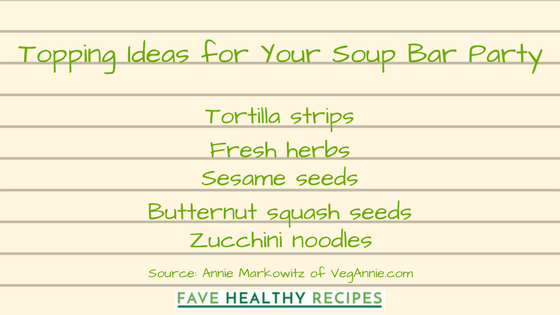 Vegan Soup Recipe Ideas
Whether you are planning a completely vegan party or simply want to offer a vegan option for your guests, you can't go wrong with vegan soup recipes. Annie Markowitz, a weight-loss expert and blogger of VegAnnie, offered a few suggestions for vegan soup recipes. "Tomato soup doesn't need to be dairy-based," she noted in a phone interview, and suggested using vegan versions of favorite recipes. In addition, she noted that vegetable broth could be used as a launching pad to include an assortment of mix-ins and ingredients that everyone will love.
Mix-ins and Toppings for Your Soup Bar Party
Making a bowl of soup just the way you like it is always a special treat, so set out an assortment of mix-in ingredients and toppings for guests. Cooked meat or protein in bite-size pieces will always go over well, as will diced vegetables; pasta, rice, or noodles; and even condiments, including hot sauce. When it comes to toppings, especially for chili, the sky is almost the limit! "Tortilla strips, fresh herbs, sesame seeds, butternut squash seeds, and zucchini noodles are all good topping ideas," Markowitz noted. Guacamole is also a must if you plan to serve chili; to make your own, take a look at Markowitz's recipe for 5 Minute Guacamole (pictured below). If you are planning to serve mix-ins for guests to stir into their soups, then make sure the items are already hot; Markowitz noted that a pile of cooked pasta directly from the refrigerator just won't taste appealing. In addition, the cold ingredients may not heat up completely when stirred directly in a guest's bowl of soup.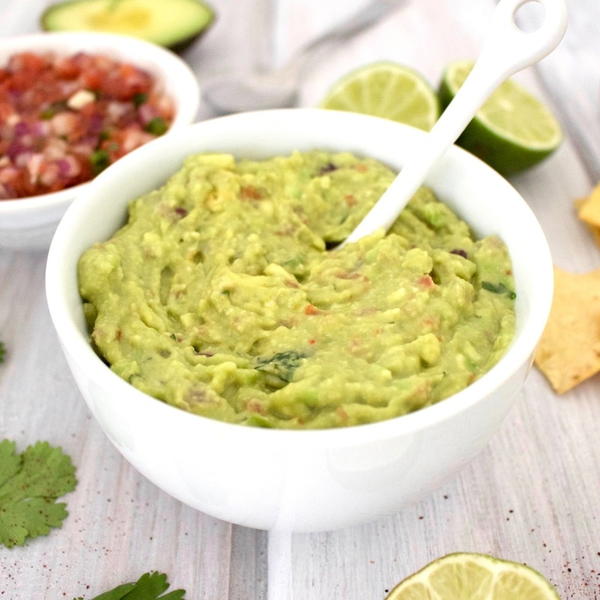 Side Dishes to Include on the Menu
Although soup can be filling on its own, including a few side dishes at your soup bar party will go over well with guests, too. In addition to classics such as cornbread or dinner rolls, consider including an assortment of sandwiches, crackers, cheese, snack mixes (including Markowitz's recipe for Healthy Chex Mix, pictured below) and sliced fresh fruit and vegetables that are in season. Guests will appreciate the difference in taste and texture with these side dishes. When it comes to dessert, the spread can include sweet baked goods that are easy to serve individually, including brownies, cookies, and cupcakes. These desserts can be served on the side and will require minimal preparation.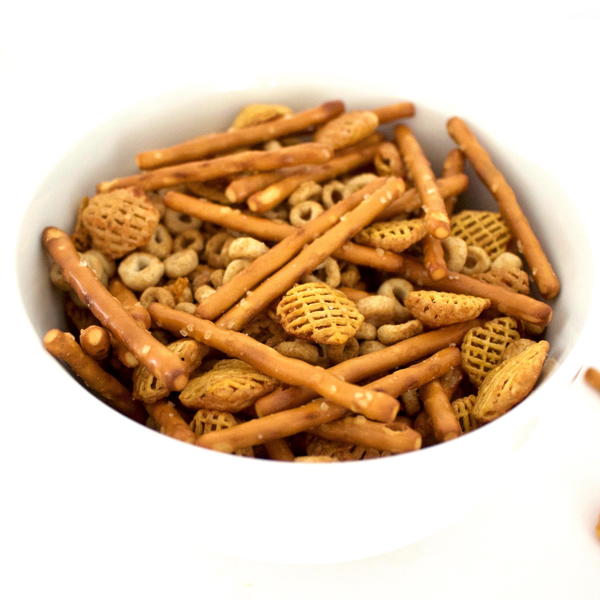 How to Serve Soup at Your Soup Bar Party
Your guests will want to experience the full flavor profile of each soup, so providing them with clean tableware and utensils is a must. What's a busy host or hostess to do? Consider setting out sturdy disposable cups and bowls that are specifically designed to withstand heat, as well as heatproof plastic cutlery. If the thought of all of those disposable items piled in your garbage can or recycling bin makes you cringe, then you can opt to include reusable items. Markowitz suggested using coffee mugs for a soup party, as well as small heatproof glass jars with wide mouths. As the jars will get hot after the soup is placed inside, consider including hot mitts or towels on the side so guests can easily place their soup by their seat at the table. Small plates are also ideal for guests to place crackers, chips, or additional vegetables, as well as fresh fruit and desserts.
Crowd-Pleasing Soup Recipes
What's a soup bar party without an assortment of soup at the ready? From beloved classics to new twists on old favorites, you can't go wrong with serving an assortment of broths, soups, and chili. This selection of recipes will help you get started in planning your event. We've selected an assortment of recipes that the crowd is sure to love.

Magic Soup Broth (pictured below): This vegetarian broth is easy to make and will be a versatile addition to your party. Encourage guests to stir in chopped veggies and hot noodles for a truly delicious cup of soup.

Grandma's Homemade Chicken Noodle Soup: You can't forget about the classics when planning a soup bar party, and this recipe won't disappoint. Guests can still customize a bowl of this soup by adding their choice of chopped veggies, hot sauce, and other fun mix-ins. 

3 Bean Chili: Hearty and full of bold flavors, this recipe for 3 Bean Chili is one you can't miss. This vegan recipe is sure to win over the crowd, and can be topped with guacamole, tortilla chips, and plenty of hot sauce.

Olive Garden Has Nothing on This Minestrone Soup: Boasting a litany of ingredients that includes beans, tomatoes, and plenty of herbs, this is one soup that everyone will want to try. Plan to serve breadsticks with this recipe!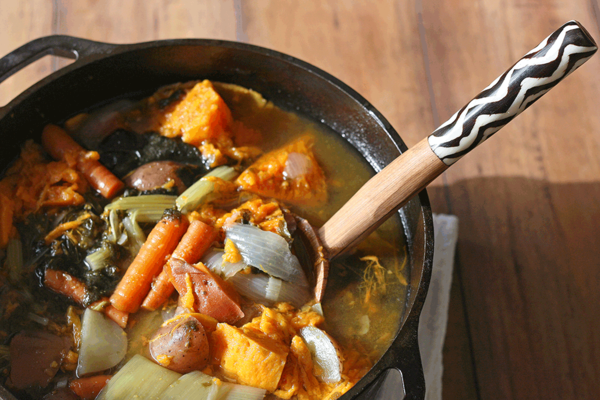 What is your favorite soup to serve?
Tell us in the comments below!
Free recipes, giveaways, exclusive partner offers, and more straight to your inbox!
Tags / Related Topics
Your Recently Viewed Recipes

Something worth saving?
SAVE your favorite recipes
ADD personal notes
GET fast cooking tips