How to Cook with Whole Grains
By:
Matt Kaplan, Editor for FaveHealthyRecipes.com
If you're looking to eat healthier, a great way to start is to replace refined grains in your diet with some tasty whole grains to eat. The best whole grains, such as brown rice, whole wheat flour, quinoa and barley, contains tons more fiber and nutrients that the typical refined grains that most of us are used to cooking and eating. But cooking with whole grains can be daunting for the inexperienced. Fear not! Here is your go-to guide on How to Cook with Whole Grains.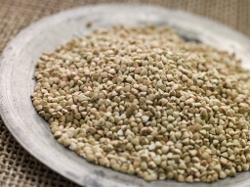 Table of Contents:
How to Cook with Whole Grains: General Cooking Tips
How to Cook with Whole Grains: Recipes for Cooking with Whole Grains
How to Cook with Whole Grains: General Cooking Tips
Give Yourself Time: Because the best whole grains to eat are fiber and nutrient dense, they take far longer to cook than do refined grains. For example, brown rice takes about 30-45 minutes to cook up, and quinoa takes about 20-25 minutes to cook. Try making all of your whole grains in advance, and then reheat during the week for all your meals. Also, if you soak the grains for a few hours beforehand, they will have a shorter cooking time. Also, your trusty slow cooker is great for cooking with whole grains.

Don't Be Overwhelmed: Yes, there are a lot of items on the universal list of whole grains, with many being rather obscure to the average home cook. Sure, tastes and textures vary, but a grain is a grain. Simply try substituting in the best whole grains into your standard go-to recipes. Make fried rice with brown rice or wild rice instead of old white rice. Bread your chicken with whole wheat flour, or try baking with white whole wheat flour. Serve your stir-fry with some plain quinoa or bulgur. When cooking with whole grains, think substitution.


How to Cook with Whole Grains: Recipes for Cooking with Whole Grains
Still need some further guidance? Let these three recipes show you how to cook with whole grains to make a recipe that is delicious and nutritious.
Vegetables and rice can help you make the greatest wild rice casserole. In only a few steps you can be eating this great meal.
Serves: 4
Preparation Time: 5 min
Cooking Time: 1 hr 10 min
Ingredients
1/2 cup wild rice
1/2 cup long grain brown rice
1 cup onion, chopped
1 cup celery, chopped
3 tablespoons butter (margarine)
1/4 cup soy sauce
4 ounces can mushrooms, sliced
2/3 cup water chestnuts, sliced
1/2 cup almonds, slivered
Instructions
Bring 2 1/4 cups water to a boil - add wild rice and simmer for 20 minutes, add brown rice and simmer for 40 minutes more.

Saute onions and celery in butter.

Add soy sauce, water chestnuts, mushrooms, and liquid from mushrooms.

Top with browned almonds and bake at 350 degrees F for 30 minutes.
The protein-rich grain quinoa is a health super-food. Along with kale, brown rice and garbanzo beans, this is a healthy recipe that ticks all the right boxes.
Serves: 6
Preparation Time: 5 min
Cooking Time: 8 min
Ingredients
2 teaspoons vegetable oil
1/2 cup chopped onion
1/2 cup thinly sliced carrot
1/2 cup chopped red bell pepper
2 cloves garlic, minced
2 teaspoons curry powder
1 teaspoon chili paste with garlic
1/2 teaspoon peeled fresh ginger, grated
6 cups kale, torn
2 cups cooked brown rice
1 cup cooked quinoa
2 tablespoons soy sauce
15 ounces garbanzo beans, canned, drained
Instructions
Heat oil in a large nonstick skillet over medium heat.

Add onion, carrot, bell pepper, and garlic; saute 2 minutes.

Add curry, chili paste, and ginger; saute 1 minute.

Add remaining ingredients; cook 3 minutes or until thoroughly heated, stirring occasionally. Serve at room temperature.
Yield: 6 servings (serving size: 1 cup) You can substitute 1 teaspoon of crushed red pepper flakes for the chili sauce.
Whole-Wheat Buttermilk Pancakes are a great way to create naturally sweetened pancakes that are healthy. The whole-wheat flour gives the pancakes a thicker consistency and a nuttier flavor that you will love! I like eating them with very mashed ripe bananas on top. They're sweet enough for me!
Yields: 12
Preparation Time: 15 min
Cooking Time: 15 min
Ingredients
1 cup whole wheat flour
1 teaspoon baking soda
1/8 teaspoon salt
2 tablespoons oat bran or wheat germ
1 cup low-fat buttermilk
1/4 cup applesauce
2 teaspoons olive oil
1 egg white, lightly beaten
1 teaspoon vanilla
Instructions
Combine first 4 ingredients (flour, baking soda, salt and oat bran/wheat germ) in a medium bowl; make a well in the center of mixture.

Combine buttermilk and next 4 ingredients, stirring just until dry ingredients are moistened.

Coat a nonstick griddle or nonstick skillet with cooking spray, and preheat to 350 degrees F.

For each pancake, pour 1/4 cup batter onto hot griddle, spreading to a 4" circle. Cook pancakes until tops are covered with bubbles and edges look cooked; turn pancakes and cook other side.
Free recipes, giveaways, exclusive partner offers, and more straight to your inbox!
Tags / Related Topics
Your Recently Viewed Recipes

Something worth saving?
SAVE your favorite recipes
ADD personal notes
GET fast cooking tips