A Beginner's Guide to Kitchen Knives
By:
Beth Ann Morley, Editor, FaveHealthyRecipes.com
A Beginner's Guide to Kitchen Knives
Can't tell a paring knife from a boning knife? Then this guide is perfect for you. We'll tell you which knives you can't live without as well as what they look like and what they're used for.

To have this guide handy when you need it, we suggest you print it out and keep it in your kitchen. You can also send this guide to friends and family who are new to the cooking world.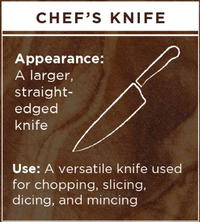 Chef's Knife: This versatile knife is large and has a straight edge. It is used for chopping, slicing, dicing, and mincing.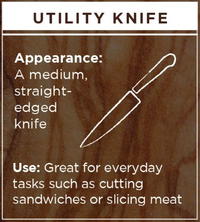 Utility Knife: The utility knife also has a straight edge, but it is smaller than the chef's knife. This knife is great for everyday tasks such as cutting sandwiches or slicing meat.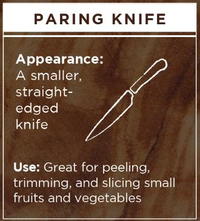 Paring Knife: As a smaller, straight-edged knife, the paring knife is great for peeling, trimming, and slicing small fruits and vegetables.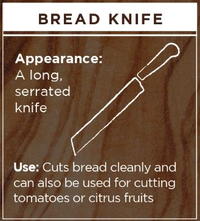 Bread Knife: Long and serrated, this knife will cut bread cleanly without mashing it. The bread knife can also be used for cutting tomatoes or citrus fruits.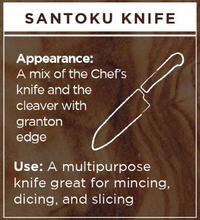 Santoku Knife: Similar to the chef's knife, this a great knife for mincing, dicing, and slicing. The blade of the santoku knife has a granton edge which means that there will be evenly spaced grooves or dimples on the knife. With the addition of grooves, you'll notice that your food doesn't stick as often to the side of the knife.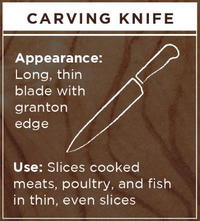 Carving Knife: A carving knife has a long, thin blade with a granton edge. You can use this knife to slice meat, poultry, and fish into thin, even slices.
---
---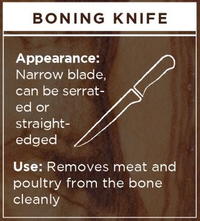 Boning Knife: This knife has a narrow blade that can either be serrated or straight-edged. We suggest using the boning knife to cleanly remove meat and poultry from the bone.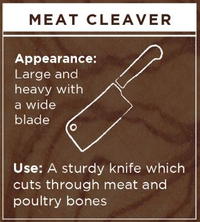 Meat Cleaver: When you use a meat cleaver, people will know you mean business. The meat cleaver is large and heavy with a wide blade. Because this knife is incredibly sturdy, you'll be able to cut through meat and poultry bones with ease.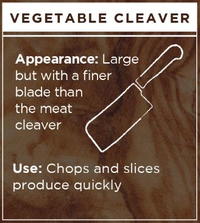 Vegetable Cleaver: This knife is very similar to the meat cleaver, but it has a finer blade. This knife is ideal for chopping and slicing produce quickly.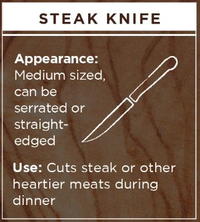 Steak Knife: The steak knife is the only knife in this list that you would include in a place setting. It's medium in size and can be serrated or straight-edged. It's perfect for cutting steaks or other heartier meats.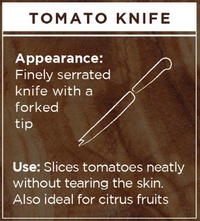 Tomato Knife: You may think that this knife looks a bit odd with its forked tip, but it's incredibly useful when you need to cut tomatoes or other citrus fruits.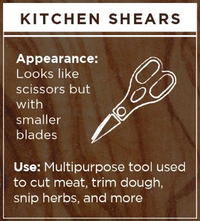 Kitchen Shears: Although it's not a type of knife, this is a necessary cutting tool in every kitchen. Kitchen shears will most often come in a knife set because they're great for cutting meat, trimming dough, snipping herbs, and much more. You can use these scissors for all of your kitchen needs, and when they're dirty, just pop them in your dishwasher.
---
Ever wonder how to cook quinoa? Check out our How to Cook Quinoa page to find out the answer!
---
Free recipes, giveaways, exclusive partner offers, and more straight to your inbox!
Your Recently Viewed Recipes

Something worth saving?
SAVE your favorite recipes
ADD personal notes
GET fast cooking tips