Salada Tea Review
By:
The Editors of FaveHealthyRecipes.com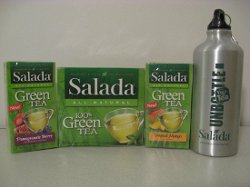 "I tried the Salada Pomegranate Berry Green Tea. I am a tea-aholic and I especially love anything berry-flavored. This was so delicious - I want to go to the store and buy it right now to have at home. This was sweet without tasting artificial or processed."
"The Pomegranate Berry Salada Tea was the perfect tea for the chilly spring day I taste-tested it. The fruity flavor was refreshing and a step away from my traditional, heavier tea choices. The pomegranate and berry combination blended beautifully. Since I take my tea without sugar or milk, this tea was perfect for that, as it let the flavors shine through. I would have loved to brew this tea for ice tea, as I think it would be a refreshing and light for summertime."
"Salada Green Tea is definitely for the tea lover. The flavorful combination of all natural fruit and green tea is the perfect way to sooth away the day's stress. The fruit flavor is noticeable, but does not over power the green tea. It's the perfect blend."
"I grew up drinking traditional black tea and while I was never averse to green tea, it did take some time for the consumer market to catch up with some worthwhile products. Did you know you can get up to 90 percent more of the healthy antioxidants found in green tea when you brew your own using tea bags? That's reason alone to ditch bottled teas and start home brewin'.
Among freshly brewed teas, I'd have to say Salada Tropical Mango Green Tea is one of my favorites. The tropical flavor blend of mango, pineapple, orange and passion fruit – with the slightest hint of spearmint – is subtly fruity but not overpowering. The green tea makes the ideal base for these exotic fruits, and Salada also adds the refreshing South American herb mate, which is said to have beneficial antioxidant properties.
Salada Tropical Mango Green Tea makes a fantastic iced tea that is the perfect summer beverage. There's also a number of other flavors – like Pomegranate Berry and Strawberry – that make a lovely no-calorie pick-me-up."
"It's not often one comes across a tea with as much flavor as Salada Green Tea Pomegranate Berry, but it truly is stupendous! One of the nicest things about it is that the infusion of the blueberry really comes through nicely, right along with the pomegranate. Full-bodied and rich, this is no wimpy tea. It has powerful flavor which any tea drinker is sure to love, and the aroma of the steeping Pomegranate Berry tea gives the whole room a delectable fragrance. If only Salada made a candle in Pomegranate Berry to complement their tea, the fragrance could be enjoyed even longer. Of course, drinking several cups of this luscious tea would do the trick nicely as well!"
"I was pleasantly surprised by this tea. I usually only drink herbal tea, so I was reluctant to try this green tea, but it was actually really yummy! While it was steeping, the aroma of the Tropical Mango tea made me feel like I was sitting at a juice bar in a tropical resort rather than a desk in a climate-controlled office building. With a gigantic spoonful of orange blossom honey stirred in, this mango tea was super sweet (as mangoes always are!). Although this tea was delicious, I would not recommend it for afternoon or evening. It is not decaffeinated and it includes yerba mate. According to the package, yerba mate is supposed to make you feel refreshed. Refreshed is an understatement. I tried to put a considerable amount of time between the entire thermos of coffee I drank and reviewing the tea, but I am still super hyped up from all that caffeine! I've been so focused, I got tons of work done, and I think I burned a day's worth of calories just fidgeting in the past hour. Let's hope I can sleep tonight!"
Free recipes, giveaways, exclusive partner offers, and more straight to your inbox!
Your Recently Viewed Recipes

Something worth saving?
SAVE your favorite recipes
ADD personal notes
GET fast cooking tips