King Arthur Flour Review
By:
The Editors of FaveHealthyRecipes.com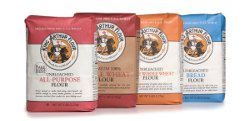 "I really enjoyed the cake made with King Arthur Cake Flour. Surprisingly, I could taste a noticeable difference in the overall texture of the cake, which I was not exactly expecting. I was always one that thought flour is flour. Little did I know! Using cake flour really gives the cake a more fluffy and lightweight texture than traditional all-purpose flour. Honestly, I am surprised at how big of a difference there was. Using cake flour in homemade baked goods definitely makes the cake taste like it was baked in a professional bakery! I'll be sure to keep King Arthur Cake Flour in mind whenever I bake a cake in the future."
"If you're someone who loves to bake as much as I do, you'll surely become a fan of King Arthur Unbleached All Purpose Flour. I think theirs is the best, whether I'm baking up pizza dough, muffins, cakes, or anything in between. There are no lumps or bumps to concern myself with, and every time I use King Arthur for my baking, everyone who partakes of the bounty is pleased as punch! It's nice that I don't have to worry about spending a mint for the best flour, either – I can always find my King Arthur Unbleached All Purpose Flour for under $1.00 a pound. For any of us pinching our pennies and watching our budgets…and looking for a great product to bake with, King Arthur Flour is the way to go."
"I made King Arthur Flour's recipe for "tender white cake," using the King Arthur Unbleached Cake Flour Blend. The flour was more delicate than all-purpose flour. This was evident in my original stirring of the dry ingredients. Also, I noticed when stirring all of the ingredients together with an electric mixer, that the batter was almost mousse-like, very soft and creamy. The final product was a delicious, soft and moist cake. This recipe and flour prove that using cake flour makes a real difference when baking cake! The recipe too was so tasty! I had never tried using yogurt in a cake recipe before. It gave the cake a moist texture and natural vanilla essence. I truly enjoyed using this flour and cake recipe!"
"Since one of the "suggested recipes" for King Arthur flour was banana bread, I thought I'd give it a try. I chose to make chocolate banana bread, because you can never go wrong with chocolate! I found the flour to be easy to work with and great for making bread. I usually buy whichever flour is cheapest at the grocery store, and I've found that not all flours are created equal. The consistency and texture of King Arthur Unbleached All-Purpose Flour are perfect and I can imagine that would be true no matter what you're baking - cake, cookies, muffins, etc. I can say from experience that it was an awesome flour for making bread; the loaf rose just as expected and the density of the cooked bread is the best I've ever seen from my oven. I also loved that, even though I've had the bag of flour sitting around on my kitchen counter for several months, the flour was still in pristine form. This flour, as promised, is consistent from month to month and you'll always get what you expect when you use King Arthur All-Purpose Flour."
"I recently had the chance to try baking with the King Arthur Cake flour, and I found it wonderful product. I'm not an expert baker or cake maker but this was pretty easy to work with. I took a recipe of King Arthur's, tweaking it slightly for the Valentine's Day theme, and the result was an amazingly moist, slightly dense cake that was not too crumbly. I hate when cakes fall apart easily or come out really dry, this one did not do that. This recipe called to use yogurt in the mix, I really think that helped with how moist this cake was. I'd use this cake flour again in a heartbeat, as my family said it was one of the best cakes I've ever made!"
"King Arthur Flour's Premium 100% All Natural Whole Wheat Flour is hearty and delicious. I used it to bake pumpkin bread and muffins, and it was a fabulous and seamless substitute for all-purpose flour. The sweet bread came out light and fluffy and the muffins were rich and hearty. If you're looking to add a healthier flour into your baked goods, King Arthur's wheat flour is the flour to use! It can easily be substituted into any baked good recipe for a delicious treat!"
"Coming from someone who loves baking, I can say that King Arthur Cake Flour has found a new place on my shelf. My cakes were so soft and fluffy and didn't have that "floury taste" other brands have, mostly due to the fact that this flour doesn't have any added chemicals. My cake had a great rise and the perfect crumb texture. Even when I frosted it, the crumb held it's shape without falling apart. I'm going to continue using King Arthur Cake Flour for all my baked goods from here on out."
"I sampled King Arthur's All-Purpose Flour in a chocolate banana bread recipe. It was truly delicious! You can tell the flour is of fine quality because the bread came out fluffy and light. This flour can be used for a variety of recipes and I'm sure it will taste fantastic! The flour makes all the difference when it comes to baking, and King Arthur certainly does it right."
"If you want to make a moist, delicious cake, use this cake flour. I love the rich, fluffy texture of the sheet cake and couldn't wait to try more! These kinds of "diet-conscious" products can have a bad reputation, but this one broke the mold. I only wish I could have a little more!"
Free recipes, giveaways, exclusive partner offers, and more straight to your inbox!
Your Recently Viewed Recipes

Something worth saving?
SAVE your favorite recipes
ADD personal notes
GET fast cooking tips