Simply... Gluten Free Desserts Cookbook Review
By:
The Editors of FaveHealthyRecipes.com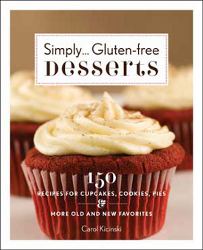 "Simply... Gluten-Free Desserts by Carol Kicinski is the ultimate guide to gluten free sweets. It seems that Celiac disease is running rampant nowadays, and I find that so many of my friends have been forced to go gluten-free. Before now, I've had trouble accommodating their dietary needs, especially on special occasions like Birthdays and holidays, but this gorgeous cookbook is a life saver! Not only can I make my gluten-free friends food that they can safely enjoy, but looking through the cookbook I've also seen how easy it would be to go gluten-free myself, simply for the sake of my health and well-being. I know I'd never hesitate to make Chocolate Chestnut Cake with Chocolate Ganache and Dark Chocolate Frosting. In fact, I had never seen a recipe for Raspberry White Chocolate Mousse, much less a gluten-free one. After flipping through the book, I started making plans to prepare the Pumpkin Cranberry Muffins and Lemon Ricotta Pancakes as part of my annual Thanksgiving breakfast! I didn't know about Carol Kicinski before, but her Simply... Gluten-Free books have quite a following among my gluten-free friends. Hardbound, organized, and interspersed with impressive full-color photos of the delicious-looking desserts it describes, the cookbook is as satisfying as once can be. Clear instructions and helpful tips throughout render it a helpful guide for all skill levels. This book is definitely a staple for any good baker's bookshelf, and anyone who wishes to go gluten free will find endless possibilities inside!"
"Gluten-free recipes have come a long way in recent years, but desserts are another story. After all, gluten or grain is often the top ingredient in many cakes, cookies, and other desserts. So if you have a gluten allergy, then Simply... Gluten-Free Desserts will be a real treat for you! Featuring 150 recipes for cupcakes, cookies, puddings, cakes, bars, pies, custards, tarts and more, this cookbook gives readers great new dessert recipes for food that is naturally gluten-free. If you're a little skeptical from gluten-free desserts you've tried in the past, how does Molten Lava Cake, Mascarpone Berry Pie and Chocolate Chunk Coconut Macaroons sound? And Salted Peanut Caramel Brownies, Red Velvet Cupcakes and Peanut Butter and Jelly Ice Cream Sandwiches? If you're drooling already, do yourself a favor and run out and get Carol Kicinski's easy-to-follow cookbook. An added bonus is that many of these desserts are dairy- and sugar-free so you can accommodate other dietary restrictions too. Carol provides excellent tips for gluten-free cooking and baking, as well as some items to have on hand in your kitchen. Though gluten-free eating can seem like a tremendous challenge, with Simply... Gluten-Free Desserts, you won't have to give up on those desserts you love. I, for one, am very excited about her Bananas Foster Cupcakes!"
"My one experience with gluten-free products being in the form of a drier-than-dirt fruit bar, I must say I was a little wary of an entire cookbook consisting of gluten-free recipes. However, Carol Kicinski's Simply... Gluten-Free Desserts couldn't make gluten-free look more appetizing. With all the gluten-free buzz lately, it seems this book couldn't have come at a more opportune time. I know very little about the gluten allergy, but Kicinski makes it accessible and easy to understand. And as she herself has dealt with a gluten allergy and had to find appetizing alternatives to now-forbidden common foods and ingredients, you know you can trust her as an authority on the subject.
When I think of a recipe book, I envision a stark list of ingredients and numbered steps, the "dispensable" words having been omitted for brevity's sake. But this is not Kicinski's style at all. She adds personal notes, tips, and anecdotes before each individual recipe, making it seem like an old friend sharing family secrets rather than a cold and methodical textbook. Additionally, the instructions are written out in paragraph form, creating a sort of story as opposed to a laundry list of steps—and you know the moral of that story will be a delectable dessert.
The pictures, with their bright colors, cute patterns, and varied arrangement, really drew me in. I only wish there had been more of them. The desserts in these images will have even those without a gluten allergy baking gluten-free."
"The Simply... Gluten-Free Desserts cookbook, by Carol Kicinski, is a dream for anyone with a gluten intolerance who loves sweets. This book features 150 amazing recipes that are easy to follow and will quickly make you forget that you're eliminating all gluten from the dessert. From cakes, to cupcakes, cookies, pies, puddings and even frozen delights, there is something to tempt everyone in this cookbook.
You must check out the No-bake Chocolate Truffle Cake on pg. 29; thanks to the whipping cream and espresso this cake is entirely sinful. If you're a fan of lemon than you absolutely must make the Triple Lemon Pound cake on pg. 32; it's loaded with lemon and a very tantalizing lemon glaze. If you really want to freak out, try the recipe for Peanut Butter and Jelly Ice Cream Sandwiches on pg. 232; what a concept - peanut butter cookies with jelly and ice cream! Even if you don't have a gluten intolerance, this cookbook has many must-make desserts for all."

Free recipes, giveaways, exclusive partner offers, and more straight to your inbox!
Tags / Related Topics
Your Recently Viewed Recipes

Something worth saving?
SAVE your favorite recipes
ADD personal notes
GET fast cooking tips