Easy Potluck Ideas and Tips You Can't Live Without
From delicious potluck recipes to prep tips and more, these ideas will make your next potluck a success!
By:
Megan Horst-Hatch, Editor, FaveHealthyRecipes.com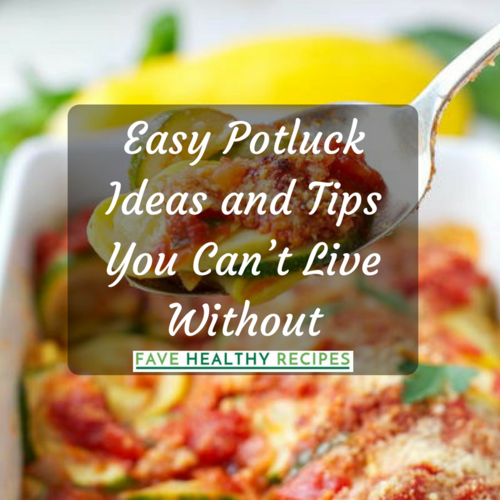 A tradition for many generations, the potluck is a fun and inexpensive way to organize a party for almost any group size. In this type of event, participants can show off their cooking skills in a big way. However, there's more to hosting a potluck than providing four walls and a roof for the event, and incorporating easy potluck ideas for your group's next event can be a great way to make the event a success. You'll want to take into consideration different recipes for healthy appetizers and snacks, food safety, and so much more.

Are you organizing a casual board game party with friends or a department-wide potluck with your coworkers? Whether you're a potluck veteran who wants to learn a few new tips or are new to this form of entertaining, these Easy Potluck Ideas and Tips You Can't Live Without will help you plan a fun and successful event!
Potluck Snacks for Any Event
While main dishes and desserts that are perfect for potlucks may get all the press, you can't overlook snacks. In addition to being tasty and easy to serve, snacks can tide everyone over until the potluck spread is completely set up and ready to serve. As space is likely limited, you'll want to look for healthy appetizer recipes that are no-fuss and easy to share. Classics like chips and dip, fresh-cut veggies, and even slices of fruit are sure to be a hit while organizers scramble to make last-minute preparations. When it comes to potluck recipes for snacks, plan to keep it simple!
Last-Minute Potluck Ideas
Your friend's big potluck is an hour, and you completely forgot to make anything. You don't need to dash out to the grocery store and purchase a big tray of vegetables as a last-minute potluck idea. With a little bit of creativity, you just might be able to make something by using ingredients you already have on hand. For example, Healthy Homemade Hummus (pictured below) can be made using tahini paste, canned garbanzos, and garlic. Pair the dip with carrot sticks, pretzels, or chips, and you're set! Other last-minute potluck ideas include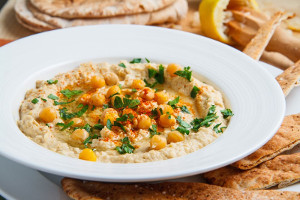 Creative and Easy Potluck Ideas for Work
Your department is planning a monthly potluck event, but how can you organize a potluck if the meal won't be served until hours after everyone arrives at work? If refrigeration is available, then encourage everyone to stash their contributions in the refrigerator until it's time to eat. Another option is to order delivery from a favorite pizza place or other restaurant. Everyone can contribute to the bill while also bringing a tray of cookies, fresh fruit, or a salad to share.
Easy Cold Potluck Ideas: Salads, Dips, and More
When the temperature rises, the last thing you probably want to do is stay inside and cook. If you'd like to keep things cool, then you'll need to think cool by encouraging guests to bring larger salads to share, as well as lunch meats, pre-roasted vegetables, cold soups, and other no-cook options. Help guests keep their items cool by providing refrigeration on site, too. You don't want salads or lunch meat to spoil!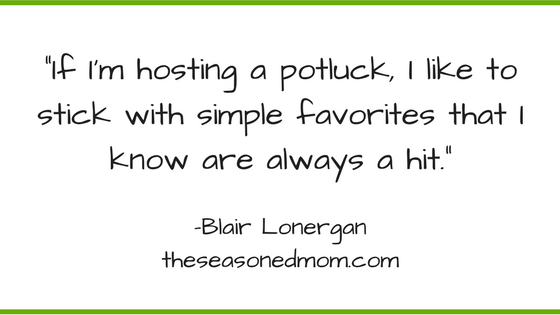 Potluck Food Safety Tips
The plans for your next potluck include plenty of board games and food. But have you thought about potluck food safety? As you likely don't want to include foodborne illnesses in your plans, you will need to keep hot items hot while keeping cold items cold to reduce the risk of guests getting sick from foodborne bacteria. According to the United States Department of Agriculture, "food should not sit at room temperature for more than two hours." If you are not planning to serve food until long after the potluck begins, then you will need to make arrangements to ensure foods like potato salad, meats, and dairy-based dips are stored in a refrigerator.
Main Dish Potluck Ideas
When it comes to main dish potluck ideas, the sky is almost the limit! You can opt for oven-fried chicken for ease of serving, serve sliced ham, or make a slow cooker filled with a hearty and tasty chili. Regardless of what you plan to serve, remember that any main dish should be easy to serve when you get to the party. Blogger Blair Lonergan of the website The Seasoned Mom offers some advice when it comes to selecting a main course. "If I'm hosting a potluck, I like to stick with simple favorites that I know are always a hit," she explained in an email. She suggested letting the seasons determine what you make, pointing out that soups and chili in the slow cooker will work in colder months, while grilled food is perfect for summer. She also doesn't hold back from making a new dish. "I'm not shy when it comes to testing a new chili recipe or a new soup recipe when serving a group. Our friends are good sports and they'll enjoy just about anything — without judgment!"
Tasty Dessert Potluck Ideas
Let's be honest. The best part of just about any potluck is the desserts! If you're attending a potluck, then you might consider the event as a way to show off your baking skills. Before you make plans to bake just the right dessert, you'll need to keep a few things in mind. While you might be willing to make an ice cream cake, a cream pie, or other dessert that requires freezing or refrigeration, you will need to see if that is possible at the potluck's venue. You can't go wrong with an easy sheet cake! This recipe for Greek Yogurt Chocolate Zucchini Cake (pictured below) by Lonergan is easy to make, and is sure to win over the crowd, too.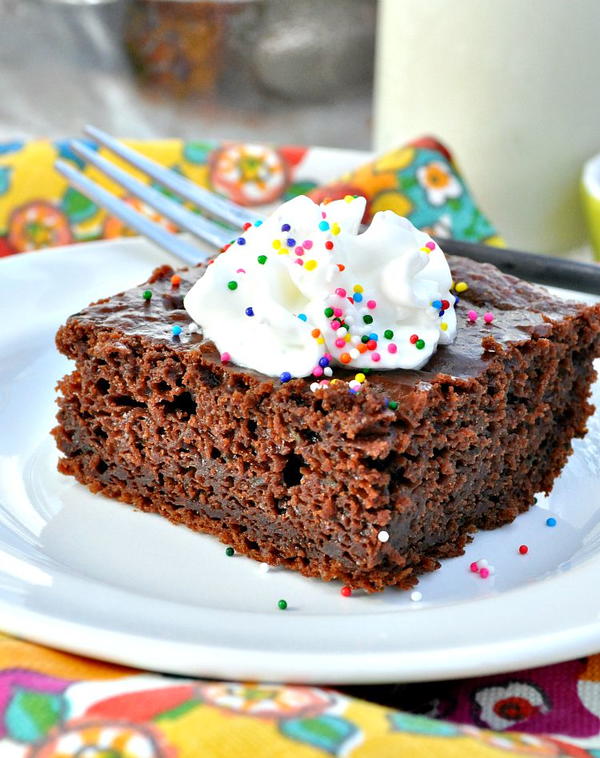 How Much Food Do You Need for Your Potluck?
Planning a potluck means providing ample food for all guests. How many dishes do you need for your next potluck, anyway? According to The Order Expert, you divide the number of guests by the number of types of dishes that you plan to serve at the event, then adjust the number of dishes accordingly to your group's preferences. Keep in mind that many guests may take only a small portion of each dish, so that they can sample everyone's contributions. Make a plan for the leftovers, too. For example, guests may be encouraged to bring home a fixed plate of leftovers to enjoy at a later day.
Accommodating Guests with Dietary Restrictions
Your next potluck's guest list will include people with an assortment of dietary restrictions. If you will have guests who are vegan, diabetic, gluten-free, or have other dietary restrictions, you might wonder how you can accommodate them at the event. If it is possible, ask guests with dietary restrictions to make a dish that will meet their needs. When it's time to start eating, allow those guests to go through the line first so they can be assured of getting a serving or two of their food. If it is possible, you can inform all guests in advance if food needs to follow a certain dietary restriction, such as one for a food allergy.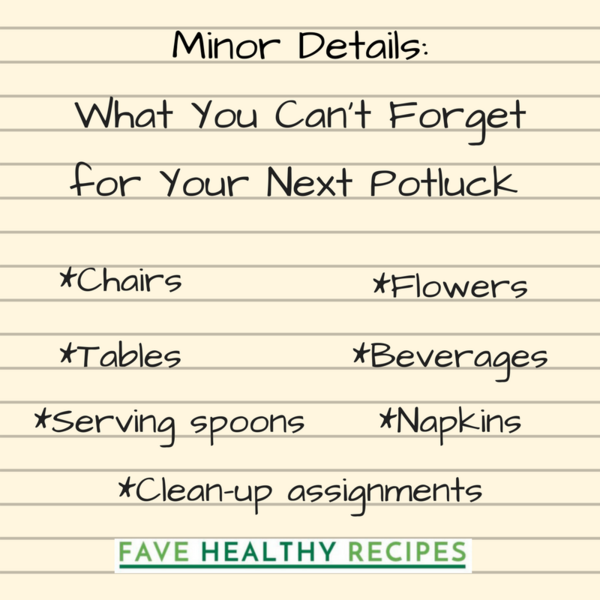 Minor Details: What You Can't Forget for Your Next Potluck
Your potluck venue is ready to go and you can't wait to try an assortment of dishes made by family and friends. Although the big tasks for the potluck are finalized, you can't overlook the minor details. You will need to make sure beverages will be provided for all guests, and that you have utensils, plates, and napkins. Long Island Pulse Magazine notes you can also enlist guests to bring fresh flowers, chairs, and other crucial items that jut might be overlooked. Other minor details to keep in mind include having serving spoons, assigning guests to set up the event, then clean it up after the event is over. Let guests know upfront if they are expected to help out in any capacity beyond providing a side dish or two. 
Potluck Recipes You Need on Your Radar
Every great potluck needs some fantastic healthy recipes! If you're tired of bringing the same dish to every potluck, then you're in luck. These easy potluck ideas can serve at least six people and will be a hit with everyone. They're also healthy! You might just be left with the serving dish when you share these recipes.

Ground Beef Enchiladas Recipe: Hearty and filling, this enchilada recipe is meant to share with a crowd. It can serve six to eight people and is loaded with flavor. Serve this dish with a bowl of plain Greek yogurt on the side.

Breakfast Omelet Muffins: Delicious as can be, these muffins are ideal for any brunch potluck on your calendar. The muffins will be a savory addition to the menu!

Easy Zucchini and Summer Squash Gratin (pictured at top): Make your next summertime potluck even healthier with this gratin recipe. You can likely find most of the ingredients in your own garden.

Sriracha Deviled Eggs: What's a potluck without deviled eggs? This recipe is a spicy twist on the classic potluck dish. These deviled eggs are also topped with cilantro.

Amish Sweet and Sour Coleslaw: This side dish is too good to miss! It sounds like a complicated recipe, but it's actually quite easy to make. Just remember to make it the night before your potluck.

Vegan Coffee Cake: Perfect for any time of the day, this coffee cake just might be the one you've been looking for all along. It's sweet, filled with flavor, and vegan, too.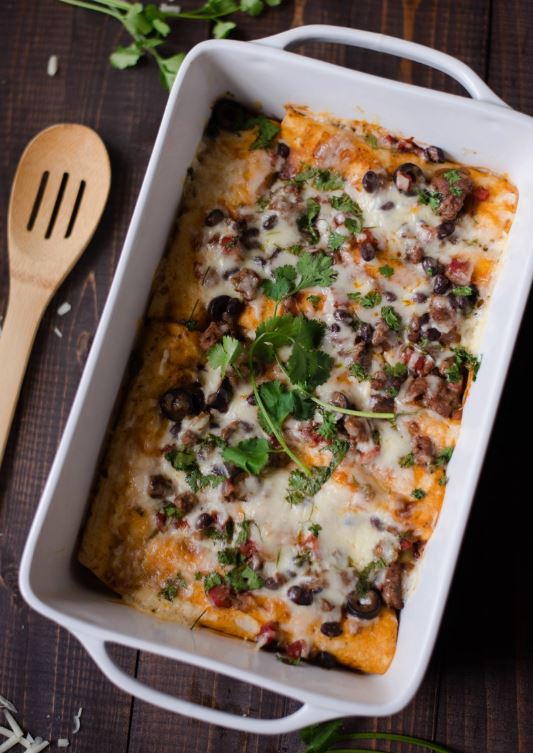 What is your best tip for planning a potluck?
Free recipes, giveaways, exclusive partner offers, and more straight to your inbox!
Tags / Related Topics
Your Recently Viewed Recipes

Something worth saving?
SAVE your favorite recipes
ADD personal notes
GET fast cooking tips