Your Guide to Superfoods: Staying Healthy with the Best Superfood Recipes
By:
Beth Ann Morley, Editor, FaveHealthyRecipes.com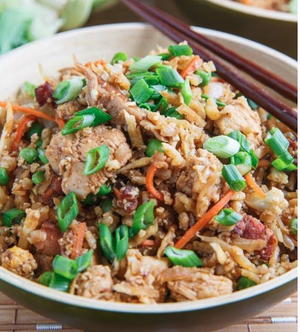 You've probably heard about superfoods, but do you know which foods qualify or do you know why these foods are so good for you? We're here to help you learn all about superfoods and what makes them so healthy. Not only have we listed out our top 25 superfoods, we've also provided recipes that incorporate these healthy ingredients. These reader-favorite recipes are some of our most popular recipes, and now you can try them out for yourself!

With this handy guide, you'll learn about these 25 superfoods and be able to incorporate a few of them in your daily diet. So sit back, read a bit about superfoods, and then start your healthy cooking today!


Your Guide to Superfoods:
Staying Healthy with the Best Superfood Recipes
---
If you're trying to steer clear of carbs, then you need this free Low-Carb eCookbook.
---
1. Blueberries - Blueberries are high in vitamin C and fiber. Plus they'll help protect you from several different kinds of cancer.
Recipe: Overnight Blueberry Lemon Cheesecake Oats
2. Quinoa -Quinoa is chock full of protein and it's gluten free. It also provides nine essential amino acids our body needs.
Recipe: Strawberry Quinoa Salad (pictured above)
3. Salmon - Salmon reduces the risk of heart disease because it provides a healthy dose of omega-3 fatty acids.
Recipe: Maple-Glazed Salmon with Sweet Potatoes and Broccoli (pictured above)
4. Steelcut Oats - Steelcut oats have much more fiber and protein that your traditional rolled oats.
Recipe: Slow Cooker Apple Pie Oatmeal
5. Greek Yogurt - Greek Yogurt will keep your digestive health in tip top shape because it's full of probiotics. It'll also help boost your immune system.
Recipe: 100-Calorie Greek Yogurt Cupcakes

6. Coconut Oil - Butter has nothing on coconut oil. This ingredient contains healthy fats to keep your waistline happy.
Recipe: Coconut Crusted Chicken with Thai Chili
7. Kale - Kale provides more antioxidants than most other fruits and veggies. It's also a great source of fiber, calcium, and iron.
Recipe: Sausage and Kale Mock Lasagna (pictured above)
8. Cocoa - Cocoa will help lower your blood pressure.
Recipe: Pumpkin Spice Paleo Sipping Cocoa (pictured above)
9. Eggs - Ignore the myth. Cholesterol from an egg is actually good for you. Eggs are also a great source of omega-3 fatty acids.
Recipe: Classic Egg Salad Sandwich
10. Sweet Potatoes - Sweet Potatoes are high in Vitamin A. Plus they're chock full of antioxidants and fiber.
Recipe: Sweet Potato Mac and Cheese
---
Want even more healthy recipes? Check out these 31 Easy Cooking Recipes for Beginners.
---
11. Olive Oil - As a healthy substitute for butter, olive oil helps to prevent or alleviate osteoporosis.
Recipe: Olive Oil Mashed Potatoes (pictured above)
12. Avocado - Avocados are a healthy fat, and they'll also help your body to absorb important nutrients.
Recipe: Bacon and Avocado Macaroni Salad (pictured above)
13. Chia Seeds - Chia Seeds are a great source of omega-3 fatty acids, calcium, iron, potassium, and magnesium.
Recipe: Blueberry Banana Chia Bread
14. Cauliflower - Cauliflower is shown to protect against lung, stomach, breast, uterine, and cervical cancers.
Recipe: Chicken Fried Cauliflower Rice
15. Tea - Full of antioxidants, tea is definitely a superfood. It'll also help prevent the growth of some cancers.
Recipe: Vegetable Soup with a Green Tea Twist

16. Pumpkin - High in potassium and essential for hearts and muscles, pumpkin is a must-have superfood.
Recipe: Pumpkin Ball Cookies (pictured above)
17. Flaxseed - Because flaxseed is high in fiber, it helps to lower cholesterol and stabilize blood sugar.
Recipe: Homemade Hot Flax Cereal
18. Acai Juice - Improve your memory and stimulate your mind with acai. Plus, it'll help you lose weight or maintain a healthy weight!
Recipe: Raw Chocolate Brownies with Acai Ganache
19. Walnuts - Walnuts will help to prevent heart disease, and they'll help lower cholesterol.
Recipe: Dark Chocolate Walnut Fudge
20. Apples - Apples are a great source of antioxidants, and they're also full of fiber and potassium. Plus, if you eat an apple a day, you'll keep the doctor away!
Recipe: The Perfect Apple Crisp (pictured above)
21. Spinach - Spinach will strengthen your immune system and help your body to fight infections.
Recipe: Spinach Cheese Puffs (pictured above)
22. Almonds - Almonds are high in protein and fiber. Plus, they're a good source of potassium, calcium, vitamin E, magnesium, phosphorous, and iron.
Recipe: 3-Ingredient Almond Milk (pictured above)
23. Broccoli - Boosting the immune system, building bones, and supporting heart health, broccoli deserves its superfood title.
Recipe: World's Best Broccoli Salad
24. Cranberries - Simply by eating cranberries you'll build a better immune system, lower your blood pressure, and maintain your urinary tract and stomach health.
Recipe: Cranberry Upside Down Cake
25. Strawberries - Great for people watching their calorie intake, strawberries are also full of vitamin C and fiber. Plus, these sweet fruits are delicious!
Recipe: No-Bake Skinny Strawberry Cake
Free recipes, giveaways, exclusive partner offers, and more straight to your inbox!
Tags / Related Topics
Your Recently Viewed Recipes
Images from other cooks


Something worth saving?
SAVE your favorite recipes
ADD personal notes
GET fast cooking tips