The Beginner's Guide to the Paleo Diet
This paleo diet food list is a great resource whether you're just starting out or a veteran to the paleo diet!
By:
Molly Hall, Editor, FaveHealthyRecipes.com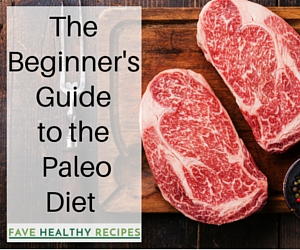 The paleolithic diet (paleo diet for short) has taken the world by storm as the new way to eat low-carb. The paleo diet is based on the diet that our ancestors are believed to have followed based on their resources. Since they were hunter-gatherers, the "caveman" diet includes plenty of protein and vegetables but no simple carbs or dairy products. In a nutshell, the paleo diet is full of whole foods like poultry, seafood, eggs, and fresh produce and it eliminates all processed foods. This trend became popular when scientific research led consumers to believe that many of the diseases plaguing our society today (like obesity, diabetes, and heart disease) were being caused or exasperated by highly processed foods. 
Protein
To put it simply, if it came from an animal, it's paleo. Meats that are highly processed (such as hot dogs) are not the best choice, but pretty much anything else is fair game. Some common meats include: 

-Bacon
-Chicken
-Eggs
-Ground beef​
-Lamb
-Pork
-Steak
-Turkey
-Veal


Seafood is a great source of lean protein and healthy fats, and you can get your fill of fish even on the paleo diet. 

-Bass
-Clams
-Crab
-Crawfish
-Shrimp
-Lobster
-Salmon
-Scallops
-Red snapper
-Tilapia
-Tuna
Fruits and Veggies
Pretty much all vegetables are paleo, with a few precautions. If you're following the paleo diet to lose weight, starchy vegetables tend to have a pretty low nutritional value compared to the carbs and sugars that they contain, so enjoy yams, sweet potatoes, squash, and beets in moderation. 

-Asparagus
-Artichoke hearts
-Arugula
-Bok choy
-Brussels sprouts
-Broccoli
-Cabbage
-Carrots
-Celery
-Eggplant
-Cauliflower
-Cucumber
-Green Beans
-Green onions
-Kale
-Leeks
-Lettuce
-Mushrooms
-Okra
-Onions
-Parsnip
-Pumpkin
-Radish
-Shallots
-Peas
-Peppers
-Spaghetti Squash
-Spinach
-Tomatoes
-Turnips
-Zucchini

​
Fruits are a great way to eat something a little sweet while on the paleo diet, but again, some of these fruits are still loaded with sugar. Even though it's natural, this extra sugar can inhibit weight loss so eat in moderation!

-Apple
-Apricot
-Banana
-Blackberries
-Blueberries
-Cantaloupe
-Cherries
-Clementine
-Cranberries
-Date
-Fig
-Grapefruit
-Grapes
-Honeydew
-Kiwi
-Kumquat
-Lemon
-Lime
-Mango
-Nectarine
-Oranges
-Papaya
-Peaches
-Pear
-Pineapple
-Plums
-Pomegranate
-Raspberries 
-Strawberries
-Tangerine
-Watermelon
​
Nuts
Pretty much all nuts are paleo, so snack away! Careful, though, as legumes are not part of the paleo diet, so peanuts are out of the question. Some nuts are high in fat, too, so be careful if you're trying to lose weight. 

-Almonds
-Cashews
-Hazelnuts
-Pecans
-Pine nuts
-Pumpkin seeds
-Sunflower seeds
-Macadamia nuts
-Walnuts
Oils and Fats
Contrary to popular belief, fat does not make you fat. Healthy fats (still in moderation, of course) are actually good for you! Not all fats are paleo friendly, though, so stick to the list below. 

-Avocado
-Avocado oil
-Coconut oil
-Coconut flakes
-Coconut milk
-Coconut butter
-Grass-fed butter
-Macadamia oil
-Olives
-Olive oil
Free recipes, giveaways, exclusive partner offers, and more straight to your inbox!
Tags / Related Topics
Your Recently Viewed Recipes
Images from other cooks


Something worth saving?
SAVE your favorite recipes
ADD personal notes
GET fast cooking tips