The 10 Healthiest Foods: Quinoa
Unlike many other whole grains and even super-food lentils, quinoa provides complete protein. For this and other reasons, quinoa comes well recommended by a panel of nutritionists for ABC. Learn about the health benefits of this tiny seed and how to make a quick one-pot meal with quinoa.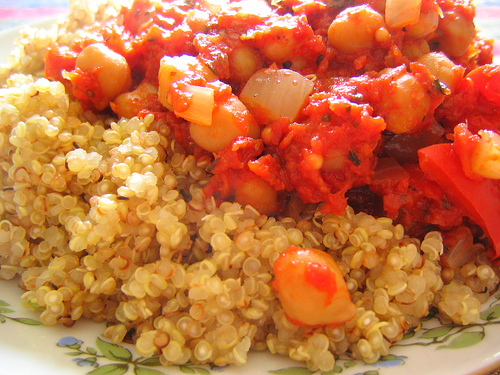 Photo by rusvaplauke
What's Quinoa?

Although used like a whole grain, quinoa is actually the seed of a leafy plant related to spinach. Pronounced "keen-wah," quinoa was cultivated over 5,000 years ago as a staple crap for the Incan empire in South American. Cherished for its great energy-giving potential, quinoa was once called "mother grain" and "gold of the Incas."

As a substitute for whole grains, quinoa is quick-cooking and fluffy like couscous, but with a slightly crunchier and nuttier flavor. For a great snack or party food, use quinoa to make tabbouleh instead of bulgar wheat. Quinoa comes in a red quinoa variety, which is similarly packed with nutrition. The difference between red quinoa and regular varities is just a matter of color!

Red Quinoa Nutrition and Health Benefits of Quinoa:
Protein- Quinoa has exceptionally high protein content and, more importantly, is a complete protein. This means quinoa has all nine essential amino acids including lysine. Wheat and many other grains lack this amino acid essential to tissue repair and growth.

Iron- Quinoa also provides much more iron than other grains, making it a good choice for vegetarians and pregnant women.

Magnesium- The high magnesium content in quinoa makes it a great food for cardiovascular health. Magnesium helps to stabilize blood pressure by relaxing your blood vessels. The magnesium and riboflavin found in quinoa are also particularly effective for people who suffer from migraine headaches.

Fiber- Quinoa is high in fiber, and gluten-free for easier digestion.

Manganese/Copper- These antioxidants help protect your body from cancer.

In recent studies, quinoa has been associated with helping to prevent or treat these conditions:
Heart Disease- A recent study showed that postmenopausal women who enjoyed at least 6 servings of whole grains each week slowed the build-up of plaque in blood vessels and the narrowing of arterial passageways.

Diabetes- The magnesium in quinoa helps the body to regulate glucose and insulin levels.

Cataracts- The protein in quinoa, which comes without the artery-clogging cholesterol in meat proteins, is known to be effective in preventing cataracts.

Curried Quinoa

This recipe whips together a one-pot meal in much less time than it would take you to cook other whole grains. You can adjust this recipe to your personal vegetable favorites

Ingredients
1 C. Quinoa
1 C. peas
½ C. chopped cashews
1 small yellow onion, chopped
1 garlic clove
2 Tbs. curry powder (mild or medium)
1 tsp. ground coriander
¼ tsp. cayenne powder (optional)
2 C. water
1 Tbs. olive oil
Other vegetables- cauliflower, broccoli, zucchini, etc.
Directions
Most quinoa these days comes already rinsed, but if not, you will have to rinse first to reduce the grain's bitterness. Soak two or three times, changing out the water between. Drain.
Heat large pot with oil. Sauté onion and garlic until softened, about 3 minutes.
Add spices and cashews. Saute for 1 minute.
Add rinsed quinoa and heat until fragrant, about 2 minutes.
Add water, peas and any other vegetables. Bring to a boil.
Reduce heat to low, cover and simmer for 20 minutes.
When all the water is absorbed, fluff quinoa with a fork.

The next super-food: Canned Salmon
Free recipes, giveaways, exclusive partner offers, and more straight to your inbox!
Your Recently Viewed Recipes
Images from other cooks


Something worth saving?
SAVE your favorite recipes
ADD personal notes
GET fast cooking tips