Just Tell Me What To Eat! Book Review
By:
The Editors of FaveHealthyRecipes.com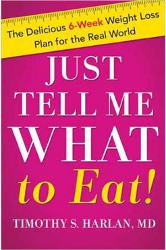 "Diet books can be boring, confusing and full of extraneous information that doesn't always apply to our own lives. The beauty of "Just Tell Me What to Eat! is that author Timothy S. Harlan, MD takes the guesswork out of eating well. Here's your prescription for exactly what to eat and when to eat it - it couldn't be any easier! You also get the benefit of a chef and a doctor in one book: Harlan is not only a chef, he's also a physician, so "Chef Tim" and "Dr. Tim" help you understand cooking techniques AND health information together. He's a realist, so you don't expect any lofty claims or crazy "miracle" foods. Emphasizing a Mediterranean-style diet, this book highlights delicious meals with high-quality calories, such as Pumpkin-Crusted Trout with Lemon Sauce and Baked Ziti. While Harlan encourages home-cooked meals as often as possible, there are alternative dinner choices with convenience meals & restaurant meals. With tasty week-by-week menus, plus "eat this, not that" food swap suggestions, this book has everything you need to get your diet on track. If you're tired of fad diets, Harlan tells it like it is - and gives you the prescription for weight loss that's backed by medicine and great cooking."
"Dr. Timothy Harlan's Just Tell Me What to Eat! is a helpful guide for anyone looking to shed a few pounds in a mere six weeks! The book emphasizes eating sensible meals, rather than cutting out major foods—a reason people often have trouble sticking to harsh diets. The 6-week diet plan Harlan presents is doable and simple. The book sets up a sustainable way to maintain a healthy diet eating the right foods, without causing one to feel deprived. The book also includes helpful explanations on body weight and calories, as well as how to understand food's sodium content and portion control. In addition, the book has tips on eating out and traveling. Harlan's book is a useful guide for anyone wanting to move in a positive nutritional direction."
"The book Just Tell Me What to Eat! by Timothy S. Harlan, MD is what all struggling dieters should be reading. If you aren't good at planning what to eat or literally need someone to tell you what works best, that's exactly what you find with this book. I found it really helpful that there is a menu planned out for 6 weeks in this book, with lots of choices within to choose from. He even gives you an alternative to the dinner recipe he provides, buy telling you a quick frozen meal option or dining out option. Along with the helpful 6 week menu are tons of tips and more recipes. What's good about this book is that he gets right down to business telling you what the problem is with dieting in general; plus he tries not to take away all the food many typically enjoy. I'd highly recommend this book for someone who's serious about tackling their weight loss."
"Losing weight can be a daunting task, but Just Tell Me What to Eat! by Timothy S. Harlan makes it seem totally manageable. I really appreciated the way the book was structured, broken down into chapters that correspond to "weeks" on a 6 week weight loss plan. Plus, within each chapter, each day of the "week" is broken down even further into simple tasks or morsels of information. For example, Day 31 is all about "How to Make Dinner When You're Busy," which is something I personally need a lot of help with. Organizing the book into simple yet important concepts and allowing the reader to focus on just one concept each day makes this book so much better than other weight-loss books I've read. Plus, each chapter comes with a healthy recipe, which is just icing on the cake! If you've always been a bit intimidated by weight loss, you'll appreciate how user-friendly this book is."
"Finally, a health book that cares about the science of eating right as well as the taste! In Just Tell Me What to Eat!, Dr. Timothy Harlan treats his readers as he would his patients. He cares and understands the importance of eating right and the difficulty we may come across with our time consuming schedules. Each delicious recipe offered health, with step-by-step information, about the healthiest possible diet based on his sound research. A lot of the recipes he gives are some of my favorites that I thought could not be adapted into a healthy alternative. Dr. Tim even gives little tips on what foods to eat as well as food myths. For example, he explains that skipping a meal is, in fact, a bad way to diet and lose weight. His overall message is that the solution to living healthy is not really a diet at all, but an overall approach and mind set of eating delicious foods while being healthy. I found that to be extremely true and also encouraging."
Free recipes, giveaways, exclusive partner offers, and more straight to your inbox!
Tags / Related Topics
Your Recently Viewed Recipes

Something worth saving?
SAVE your favorite recipes
ADD personal notes
GET fast cooking tips