8 Egg cellent Healthy Breakfast Egg Recipes
By:
The Editors of FaveHealthyRecipes.com
Eggs...they're not just for breakfast any more. While that may be true, a large number of us do like to have eggs for breakfast, whether we are up with the birds or sleep in a bit later; the problem is that it's sometimes hard to find healthy breakfast egg recipes. Well, the Editors at FaveHealthyRecipes have put together 8 "egg-cellent" healthy breakfast egg recipes, so try them out...and enjoy!
Table of Contents
Featured Healthy Breakfast Egg Recipe #1 — Salmon Omelette With Tarragon
Featured Healthy Breakfast Egg Recipe #2 — Cheesy Brunch Casserole
6 More Healthy Breakfast Egg Recipes
Featured Healthy Breakfast Egg Recipe #1 — Salmon Omelette With Tarragon
Description:
These days, everyone's talking about getting more Omega-3s in their diets. Well, this recipe gives you a delicious, easy way to do just that! Omelettes are great for breakfast, but you can really ahve this one any time of day. With healthy salmon and no added fat, it's a surefire winner!
Serves: 1
Ingredients
105 gram canned pink salmon- drained and flaked
2 eggs
2 tablespoon fat-free sour cream or fromage frais
1/2 teaspoon freshly chopped tarragon
salt and white pepper
Instructions
Drain the can of salmon and set aside. Beat the eggs, cream or fromage frais and tarragon. Season lightly.

Spray an omelette pan with cooking spray. Pour in the eggs and cook over a moderate heat until the base is set.

While the base is setting, preheat a moderate grill. Arrange the canned salmon over the soft top of the omelette.

Place the pan under the grill until omelette is set. Loosen the omelette in the pan and carefully fold in half. Slide the omelette onto a serving plate.
There was a time when eggs received a bad rap, but further studies have shown that eggs can definitely be part of healthy breakfast recipes. Some facts about eggs may surprise you - they are not as high in calories, fat, or cholesterol as you may have believed.
Calories in one large egg = 71

Fat in one large egg = 5 grams

Eggs are a good source of riboflavin, Vitamin B12 and phosphorus, as well as protein and selenium
Featured Healthy Breakfast Egg Recipe #2 — Cheesy Brunch Casserole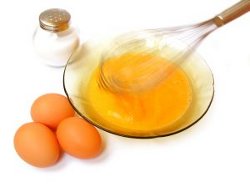 Description
This breakfast casserole has been a favorite for ages! Rather than using just whole eggs, we use egg whites for a portion, and the fat-free and low-fat cheese combination gives it a really rich flavor.
Ingredients
1 pint fat-free cottage cheese
1 pound low-fat shredded Monterey jack cheese
1/4 cup butter, melted
5 large eggs, beaten
10 large egg whites, beaten
1/2 cup flour
1 teaspoon baking powder
1 can chopped green chiles
dash salt
Instructions
Preheat oven to 400F degrees.

Combine melted butter and beaten eggs and egg whites together.

Add cheeses and chiles and mix well.

Add flour, baking powder, and salt and combine thoroughly.

Spread mixture evenly in a 9"x11" greased baking dish and bake at 400F degrees for 15 minutes.

Reduce heat to 350F degrees and continue baking for 35-40 minutes.
Which came first — the chicken or the egg? Depending how you interpret things, the Bible says it's the chicken: "And the evening and the morning were the fourth day. And God said, 'Let the waters bring forth abundantly the moving creature that hath life, and fowl that may fly above the earth in the open firmament of heaven.'" — Genesis 1:10-20.

Although it is customary to throw rice at weddings in many countries, eggs are used in French culture...not for throwing, though. French brides break an egg on the threshold of their new home before going in. It is said to bring good luck and healthy babies.

There is no nutritional difference between white eggs and brown eggs; there is also no difference in taste.

Hens of most breeds can produce an egg in 24-26 hours. Their bodies require 5 ounces of food and 10 ounces of water to do so.
For even more healthy breakfast recipes to add to your easy breakfast menus, be sure to check out The Best Healthy Breakfast Recipes: 29 Super Easy Breakfast Menus Free eCookbook
Free recipes, giveaways, exclusive partner offers, and more straight to your inbox!
Tags / Related Topics
Your Recently Viewed Recipes

Something worth saving?
SAVE your favorite recipes
ADD personal notes
GET fast cooking tips