Sunland Peanut Butter Review
By:
The Editors of FaveHealthyRecipes.com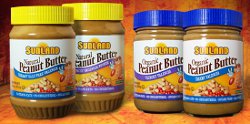 "It's easy to go nuts over Sunland Organic Peanut Butter. From the cheerful peanut mascot to their sweet Southwestern history growing Valencia peanuts, Sunland is so nuts about peanuts, they are careful to remind you that peanuts are actually legumes (not nuts) that grow underground! Sunland's superior peanuts are in every jar of Dark Chocolate Peanut Butter Spread, natural peanut butter flavor-infused with dark chocolate. While this peanut butter is more of a dessert spread, you'll find yourself wanting to pair it with everything! Dip bananas, apples and oranges into this smooth spread, or make a grilled peanut butter sandwich using wheat bread. If you love the amazing combo of peanut butter and chocolate – but you hate the preservatives and artificial flavors added to peanut butters – Sunland Dark Chocolate Peanut Butter Spread is a definite winner."
"Sunland Natural Peanut Butter Creamy Chocolate Spread was the perfect topper for my chocolate chip bagel this morning! I had wanted to try this as soon as it came in, but I didn't have anything to spread it on. Though I think it would be yummy on bread, toast, waffles or many other things, the chocolate chip bagel seemed like the perfect base. For natural peanut butter, this was exceptionally creamy and the chocolate peanut butter flavor was nicely balanced. It got nicely melty on a toasted surface. Though I will leave the jar for others to sample, I'll be looking for it on the store shelves.
I love the combination of bananas and peanut butter, so I was really excited to try Sunland Natural Peanut Butter Creamy Banana Spread. However, I am against that "fake" banana flavor that you sometimes get with "banana" flavored things. Rest assured, the banana flavor in this spread is NOT a fake flavor--it has the taste of the real thing without the challenge of keeping your banana slices on your slightly melty peanut butter when you put it on something toasted! I've never seen this combination before in one jar, but it's tasty and natural, which is an added bonus."
"I had some pretty high expectations for this peanut butter. I mean, a peanut butter mixed with flavors like banana and dark chocolate HAS to be pretty good, right? Well, I have to say I was not disappointed. The dark chocolate peanut butter was pretty much heaven in a jar; it had all the rich deliciousness of traditional peanut butter but the addition of dark chocolate intensified the flavor tenfold. But it was surprisingly the banana that was my favorite flavor. Everyone knows that peanut butter and banana go together like... well, peanut butter and jelly! This product makes it so easy to enjoy this perfect combination of flavors... you don't even have to cut up a banana. The fruit flavor is already in the jar! And Sunland certainly didn't skimp on the banana; with your first sandwich bite you're sure to taste it. In short, any peanut butter fan looking to jazz up their sandwiches will love these flavor-infused spreads."
"My family sampled the Creamy Chocolate Spread from Sunland, and we were quite pleased! My four-year-old son said, "Mm! This tastes like regular peanut butter with chocolate, but yummier!" When my 2-year-old son was presented with a slice of bread with the spread on it, he exclaimed, "Chocolate. Chocolate!" then took a bite and gleefully screamed, "CLOCKOLIT!!" (remember, he's only 2 LOL). The Creamy Chocolate Spread was not only a hit with the younger set, though. It's rich, creamy texture won me over as well. What's not to love about adding chocolate to peanut butter? I spooned some up with a banana for my afternoon snack at work, and could not have asked for a better pick-me-up at 3pm. Elvis would love this stuff!
The folks at Sunland Natural Peanut Butter have done it again! Their Creamy Cherry Vanilla Spread is indeed creamy, and ultra smooth. A delectable sandwich filler, perfect for dipping fruit, pretzels, or any other handy snack you have around, it's quite tasty as well. With just a hint of vanilla and cherries, the flavor is subtle, yet winning. Next stop: Trying it over ice cream. I'm sure it will be equally delicious!"
"I've tried a lot of organic peanut butters, and this Sunland Peanut Butter is one of the best I've had! I love that it's so creamy and easy to spread. One of the problems with organic peanut butter is you sometimes have that separation problem with the oils, you constantly have to stir the peanut butter up. Worse than that sometimes organic peanut butters get really hard over time; not the case with Sunland, this peanut butter is perfectly creamy and delicious even weeks later."
"Sunland's cherry vanilla peanut butter is a fun-flavored treat, with subtle undertones of cherry and vanilla flavors. While these flavors might seem like an unlikely match with peanut butter, they're really quite lovely. The peanut butter retains a mildly sweet quality with the addition of these flavors, as peanut butter should.
Their Chocolate Peanut Butter is a delicious and creamy treat that would go great on sliced bread, fruit or even on short bread cookies. With a warm peanut butter flavor, mixed with a hint of chocolate, this spread is perfect for those who love the marriage of peanut butter and chocolate! The spread is also only subtly sweet, which makes it versatile for breakfast, lunch or a snack."
"Crunchy Chipotle Chile is not for the faint at heart. It's got a spicy kick you've never experienced in peanut butter before. It's full-flavored and delicious. If you love spice and the flavor of chipotle, this is one peanut butter you need to try."
"The Sunland Creamy Salt Free Valencia peanut butter is unbelievably good! This is how all peanut butters should taste. The natural flavors of the Valencia peanuts really shine through here, as that's all that is in this peanut butter - pure, unadulterated peanut taste. The Valencia peanuts contribute a naturally light and sweet flavor to the peanut butter. To top it all off, it has zero sodium. If you want a peanut butter that only has a pure peanut flavor and nothing else, then this is the spread for you."
"I have to admit, when first approached to try Sunland Organic Peanut Butter's Crunchy Chipotle Chile flavor, I was a bit skeptical. I mean, chiles in peanut butter? Then, I thought about how much I love spicy food AND love peanut butter and realized that HEY, this could be a very good thing! Know what? I was right! I've already come to love Sunland's other organic peanut butter flavors – their organic roasted Valencia peanuts cannot be beat – and this was the first crunchy variety I tried. The texture, with its absolute creaminess balanced by the abundant chunks of peanut, makes for the perfect blend. Add in the kick of organic chipotle and you've got a spice-lover's dream! Not too hot, but with robust flavor and just enough kick, this is not your mother's peanut butter. It's delightful on its own (well, with a spoon), but I can also envision whipping up some pad Thai or other savory dishes for my family as well. Three cheers to Sunland for concocting a taste combination that is out of this world!"

Free recipes, giveaways, exclusive partner offers, and more straight to your inbox!
Your Recently Viewed Recipes

Something worth saving?
SAVE your favorite recipes
ADD personal notes
GET fast cooking tips